Open Daily 9:00 am-5:00 pm Except for Major Holidays
Kahakuloa is a magical place and having a Gallery in this remote location definitely has it's challenges and rewards. We have a captive audience for sure and we love to share our little corner of the earth with road weary travelers looking for a little rest stop from the winding, coastal road. You won't find any better scenery on the island and if making the trek to come and visit, be sure to bring your camera.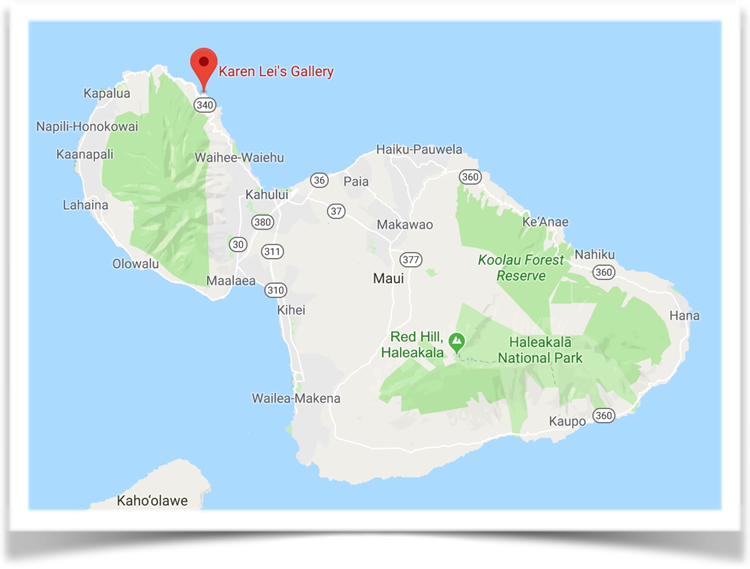 If you are driving from the West side, or Lahaina side, we are about a 40 minute drive following what the maps call Hwy. 30 out of Lahaina and once hitting the country side the Hwy. turns into what the locals refer to as Kahekili Hwy. If you are staying at a resort anywhere on the West side you basically will drive out of your resort to the main road and head in the opposite direction of the way to the airport, or Kahului. You can basically drive around the entire head of Maui by following the windy, narrow coastal road all the way around to the Wailuku & Kahului areas. There are plenty of scenic look outs and beaches along the way. You could make a day trip out of it and bring your suit and sunscreen. Once you hit the quaint village of Kahakuloa at the Bay, if you look up at the large looming mountain or what the locals refer to as Elephant Rock , you can't miss us, as you can clearly see us directly behind it on the cliff facing the Village and Bay. If you keep driving up the mountain we are on the right hand side. If you scroll down there is detailed google map to review. We look forward to seeing you!