Karen Lei Noland is the owner and artist-in-residence at Karen Lei's Galleries. She is often asked how it came about that she opened her signature gallery in such a remote area as Kahakuloa in the West Maui Mountains. She opened shop in 1993 on her ohana's, or family's, ranchland, in Kahakuloa. Her grandparents, of Hawaiian ancestry, lived and worked in the remote region. Her grandfather was a rancher, and her grandmother taught school in the one-room school house in the quaint village of Kahakuloa. Karen Lei was an art major in college and had always been drawn to painting. Like many artists, she had always dreamed of owning her own gallery. Her grandfather and mother gave her a parcel of land on the ranch on which to build, helping turn her dreams into reality. "Kahakuloa has been a blessing and has given me a peaceful and inspirational place in which to live, raise a family, and to create my art. I can literally walk out the door and be inspired by the natural beauty that surrounds me. There is no place on Earth like home, and I love that I get to share my little slice of paradise with all who travel this road. It truly makes the world seem a smaller place when every day we are blessed to get people visiting from all around the world. Customers often ask if I get bored living in such an isolated place, and I smile to myself, as I have the opportunity to meet travelers from all walks of life and all corners of the globe, and I don't have to leave my home and studio, as I live right next door."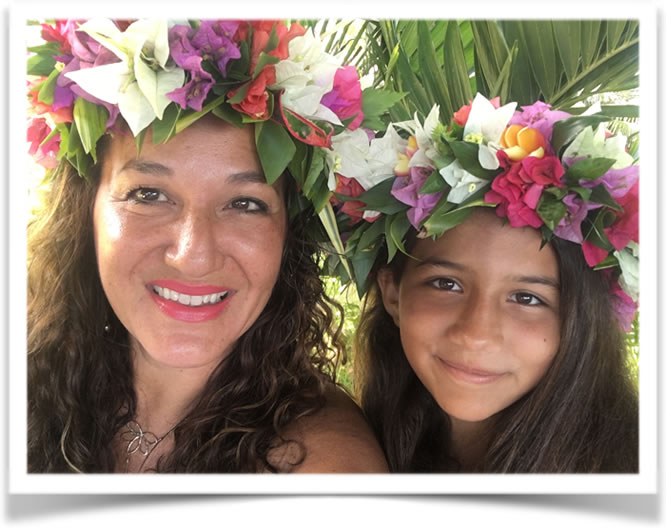 If you make the trek to visit the gallery, you will see the abundant beauty of which she speaks, as traveling to Kahakuloa is like turning back the clock in time to visit a little piece of old Hawaii. There are literally breathtaking vistas of both ocean and mountains in every direction.
Besides being an avid oil painter, Karen also makes island-inspired jewelry, much of which she creates with Tahitian black pearls, shells, coral, beach glass and blue and turquoise-hued gemstones. Here she is pictured with her daughter Leilani on a recent trip to Tahiti where she hand-selects many of the pearls she uses in her jewelry.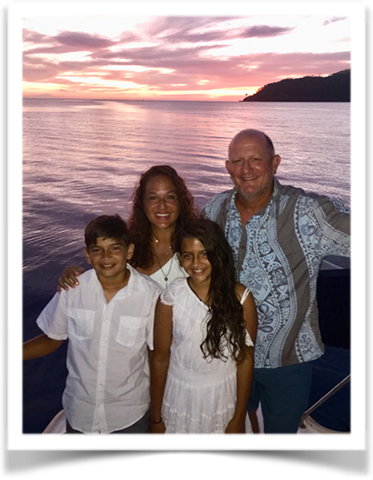 You can see many of her jewelry creations in the artwork section where you can surf the gallery's vast selection of local artists. After 25 years in business and searching the island chain for new and time-tested talent, Karen Lei has one of the largest selections of local artwork in the Hawaiian Islands under one roof and better pricing than most of the resorts on Maui. You can also see her Tahitian black pearl strands and jewelry by surfing the gallery's website.
Karen Lei opened a second store inside the resort of Ka'anapali Shores on the Lahaina-side in 2017. "It is a great location and easier to get to if you are in a hurry and don't have time to make it all the way to Kahakuloa. If you need a beautiful piece of artwork to remind you of your trip or that last minute gift for someone special, come and visit us at either of our locations. We love meeting new guests and always enjoy chatting with our old regulars."